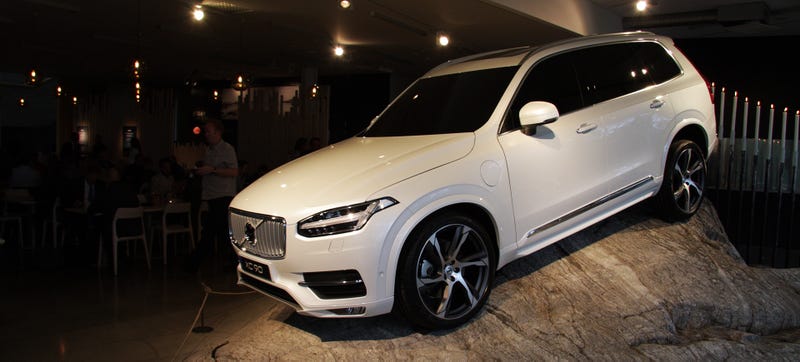 Volvo's next rolling living room will hit US showrooms in April starting at $48,900. Don't hold your breath for diesels or a manual gearbox, but the most powerful plug-in hybrid T8 is coming to America, with Apple CarPlay and Android support to follow soon.
The new XC90 is a big deal for Volvo, and not just in terms of its sheer size. It's a car that was designed to take America by storm and redefine the SUV segment, regaining Volvo's reputation for greatness. It's also the first messenger of a very different Volvo era.
If you look closely enough, you can see that the car wears a reshaped badge. That's justified by the fact that it's also got a brand new chassis built using a self-developed, scalable architecture, a new drivetrain using only four-cylinder turbo engines and electric motors, a new interior with a vertical touchscreen center console with almost no buttons, plus a bunch of safety features that we also haven't seen before.
Yep, that's an integrated camera right there. Vision 2020 in action. We'll see if they can save us all in six years time, but until then, you had some questions, right? Let's start with the price.
The XC90 will hit US showrooms in April. The base will be $48,900 for the all-wheel drive T6 with 320 horsepower and 295 pound-feet. They're also going to sell 1927 "First Edition" cars exclusively through their website starting Sept 3. These will be maxed out T6s with special badges for $65,900.