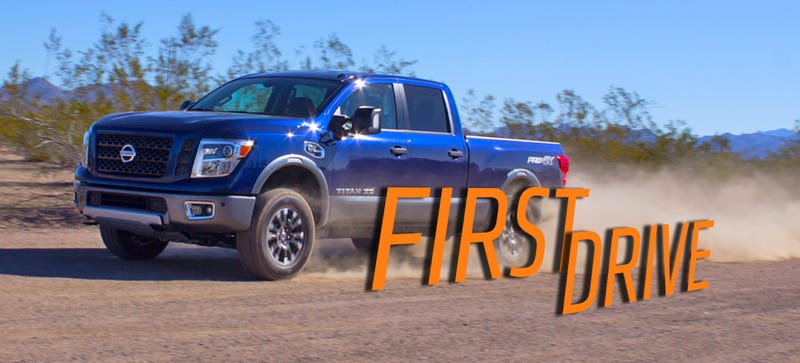 The 2016 Nissan Titan XD is supposed to be ballsier than your standard pickup truck, but softer than a true heavy duty three-quarter ton'er. So is it the Goldilocks or the bastard stepchild? I put a little mud on its tires to find out.
(Full Disclosure: Nissan flew me out to Scottsdale for this test and paid for my food and booze.)
If the Toyota Tundra is the default "also-ran" of the American full-sized pickup truck market, then the Nissan Titan is rotting somewhere at the bottom of a musty cave with Old Gregg. Put into a metric that actually makes sense, Nissan sold 719 Titans in November 2015 in the same time it took segment-leader Ford to sell 65,192 F-Series pickups. Of course there are far more variants of F-Series than Titan, but come on. The Titan has been, for all intents and purposes, a non-starter in the big truck game.
Nissan reckons it's finally time to pull themselves off the ropes and get back into the big pickup truck scene. And wisely, they're doing the only thing that will give them a decent chance in a market defined by intense and irrational brand loyalists: by earnestly differentiating themselves from the competition.
What makes the 2016 Titan XD unique?
Nissan's new Titan is really two new Titans; Titan and Titan XD. The XD is the one you keep hearing about because it's a little more heavy-duty than an F-150, Silverado/Sierra 1500, Ram 1500 or Tundra-sized "half-ton" truck but not quite as robust as an F-250, Silverado 2500, any other truck with a number "2" or higher stamped on the side.
Nissan's pitch to consumers, beyond "wow, new, different!", is the ability to one-up your neighbor's half-ton truck without bearing the harsh ride and tremendous cost of the next class up, the three-quarter ton truck.
It's a solid concept. Instead of struggling to stretch the limits of how much pulling and payload a half-ton chassis can bear, Nissan gets to put big numbers on the capability scoreboard against half-ton trucks and beat the heavy-duties on price.
So Titan XD is technically a Class 2B truck, while a Ford F-150 is a Class 2A. I'd be happy to explain all that in greater detail right here.