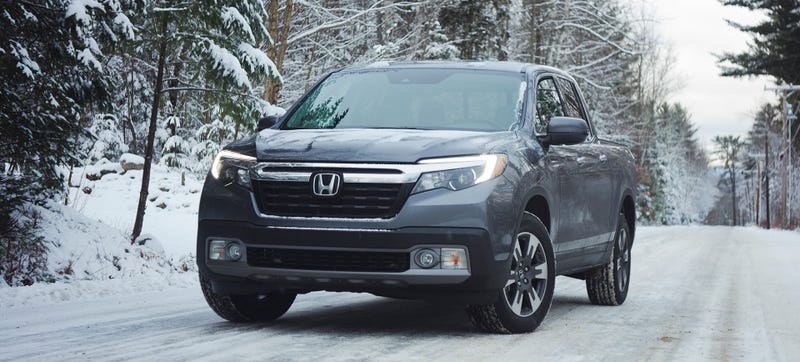 I hauled gear in the 2017 Honda Ridgeline across six states, drove it through ice and snow, chased a dually on rural backroads and generally did everything you would do with a truck short of tow with it—and my coworker David already did that. I mean to say that I can affirm that the Honda Ridgeline works as a truck. But that doesn't mean it's not unusual.

[Full Disclosure: Honda lent Jalopnik a new Ridgeline for us to go up to Team O'Neil Rally School, where we ripped sideways in their Ford Focus RS on video. Honda also put a full tank of gas in the Ridgeline before we got it.]
Though the Ridgeline does everything you might ask of a truck for a reasonable price (it starts at $30,000) and the 280 horsepower, 3.5-liter V6 got fuel economy in the low-to-mid 20s (I saw about 21-24 mpg for the whole trip), there are some things that are strange about it. I don't know if I would call them all flaws, but there are oddities.
I guess you should expect some strangeness when Honda builds a pickup truck.

Also, the Honda badges are huuuuuge.

That Fancy Bed Is Tricky
The Ridgeline has one of the coolest truck beds on the market. The tailgate can open down like normal, but it can also open sideways. It sounds like a gimmick, but it makes it way easier to reach things way in the back of the bed without having to climb up in there. Here is a little comparison:

The sides of the bed work as a resonator, so you can play music through the back of the truck itself. Again, this sounds a bit gimmicky, but it's a nice mood booster when you're standing around in the cold in New Hampshire waiting for a road to get cleared.

And there's a ton of space hidden under the bed itself. There's a full-sized trunk in there, in the floor of the bed. It's a ton of space for all of your junk (or coworkers) that you don't need with you in the cabin, but don't want exposed to rain and snow and potential thieves.