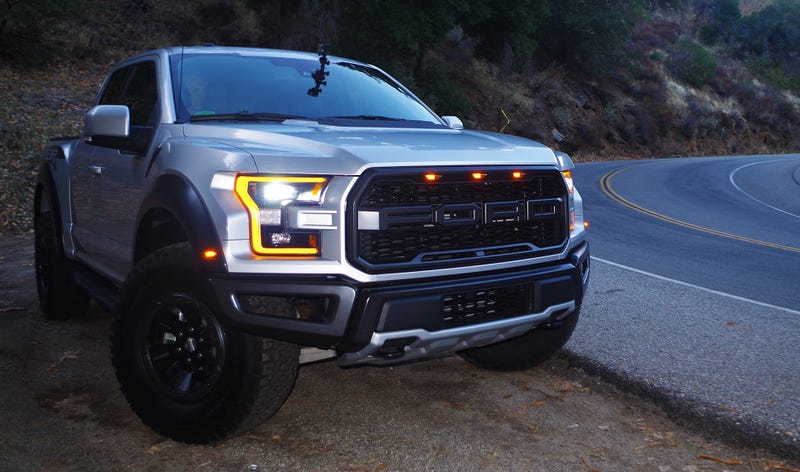 The all-new 2017 Ford Raptor is a 5,500 pound turbocharged brick sitting almost a foot off the ground on 35-inch off-road tires and long-travel shocks. I was expecting the off-road performance to set a new standard, but on winding roads? I thought we had laws of physics against stuff like that.
The truck was flatter in corners, smoother on shifts and quieter everywhere than I expected. Not just for a truck, I mean compared to anything I've driven in a while.
(Full Disclosure: Ford needed us to drive the new Raptor so badly they put me on a train to San Diego, left me alone with a whole buffet and then let me have at the truck for a couple hours under the supervision of one of their executives on Sunday. On Monday, we drive off-road.) 
Before I could cut the Raptor loose in the SoCal scrublands, I had to actually get out there. That meant taking the truck from San Diego to Anza Borrego. And that meant we had a chance to figure out if Ford's street-performance "Sport Mode" was something worth playing with or just the result some engineer's sick sense of humor.

I probably don't need to tell you why the new Raptor is a big deal, but just in case I do, Ford's high-performance F-150 variant was always a crowd pleaser when it came with a V8 in its last iteration. Now based on the new truck, it boasts a more powerful—yet more controversial—3.5-liter turbocharged V6 engine with 450 horsepower and 510 lb-ft of torque. Everyone is waiting to see if it holds up.
In spite of its blunt instrument looks, it became apparent pretty quickly that the new Raptor is more than surprisingly smooth on the street. It's clean. Precise, even.
If you're tired of reading already, you can catch some off-the-cuff driving impressions from Sunday's live video right here:

Now that I've had a few more cocktails I mean hours to process my thoughts, I'm starting to realize three aspects of the Raptor's on-road performance stuck out the most: its impressive flatness through corners, the subtle-smoothness of shifts and its freakish quietness all the way up to the highway speed limit.
Ride & Handling 
The new Raptor sits on all-terrain BF Goodrich KO2 tires. These came out a couple years ago and have basically been considered the benchmark for daily drivers that go off-road.
I've run them on old V8 Raptors and open-wheel buggies in Baja, with impressive results. A new Raptor just finished the Baja 1000 on a set without getting a flat. (Unconfirmed, but as told to me by two Ford reps on Sunday.)