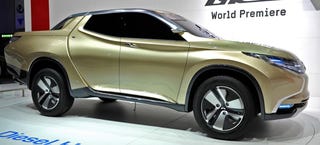 You might have forgotten Mitsubishi even sells pickups, but the rest of the world hasn't. The Three-Diamond company has moved more than 1.1 million L200 trucks out of their Thailand factory since 2005, and are promising a low-emissions next-generation truck this fall that should look like the GR-HEV concept.
Mitsubishi abandoned pickups for the American market after their rebadged Dodge Dakota (the Raider) didn't do so hot. But the L200, also know as the Triton, is a strong seller in Europe, Asia, and the Middle East. It's available in 158 countries all up.
Apparently the next generation of the little pickup will be revealed this fall, as "a striking (low emission) vehicle taking many of its design cues from the acclaimed 2013 Concept GR-HEV show car."
Mitsubishi could really use something as disruptive as a low-emissions, highly efficient small pickup truck to give their American efforts a little much-need motivation. But unless they can build it stateside, importation taxes would present a real challenge for its viability.