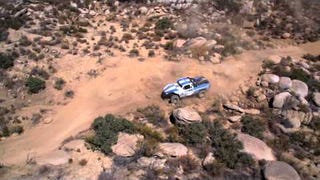 If you missed this year's Baja 500 desert race, or just want to wrap up your weekend with some big-screen off-road action, turn your TV to CBS Sports tonight at 9PM Eastern Time for their Baja broadcast.
We were all really looking forward to watch Dutch Dakar racer Gerard De Rooy hustle his giant Iveco Powerstar race truck through the 2014 Baja 500, but unfortunately his attempt was cut short when he was overcome with pain cause by a swollen appendix, turning around at mile 37.
The 2014 Baja 500, Round 3 of 5 in the SCORE World Desert Championship, wrapped up yesterday with only 126 vehicles completing the 447.86 mile race. 232 had started, and even Gerard De Rooy was unable to cross the finish line on account of illness.
Gerard De Rooy, almost-champ in "big trucks" at the 2014 Dakar Rally, has brought his 20,000 pound Powerstar to the Baja 500, going down right now. Here's his pre-race interview; thoughts fresh off the warmup pre-run.
Gerard De Rooy, almost-winner of last year's "big truck" class at Dakar, is reportedly competing in this year's Baja 500 as per his team's Facebook page. Problem is, he's nowhere to be found on the
official 2014 Baja 500 entry list
and the registration deadline is tomorrow. Somebody get that Dutchman an entry form!