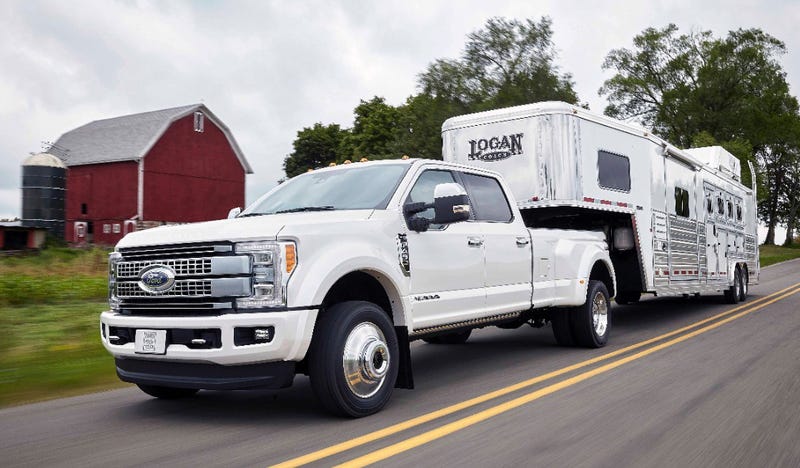 The 2017 Ford Super Duty trucks, which includes F-250, F-350, and the pickup truck version of the F-450, have been fully redesigned for the first time since pogs were currency and your dad had a pager. And the new capability claims, well, they're big.

Here's the short version: 440 horsepower and 925 lb-ft of torque. Carry 7,630 pounds in the bed or 32,500 pounds on a trailer. A 6.7-liter Power Stroke diesel, six-speed TorqShift automatic transmission.
Now for those with a longer attention span, let's break it down a little further.
Based on apparent success of the new-for-2015 F-150, Ford has carried-over the aluminum body idea to their big trucks for 2017. Ford says that cuts the truck's curb weight by as much as 350 pounds for some variants. Underneath the skin is an "all-new" steel frame Ford claims is 24 times stiffer than the outgoing model to support meteoric towing and hauling levels.
We'll get the full spec sheet when we drive the trucks in Colorado next week, but for now Ford has teased out a few extreme specs from their heavy duty lineup:

The maximum gross combined weight (GVWR) rating for a Ford Super Duty truck and trailer is 41,800 pounds. That means the truck, whatever's in it, and whatever it's towing, can legally (and apparently mechanically) weigh about half of what a fully-loaded semi truck can weigh.
Now in order to operate a rig that weighs more than 26,000 pounds, you generally need a commercial driver's license. Of course there are ways around that, which is why you might see "NOT FOR HIRE" stickers on very large private vehicles, but for the love of all things holy, do us all a favor and get some training before you cut yourself loose on the highway with that much mass at your command.