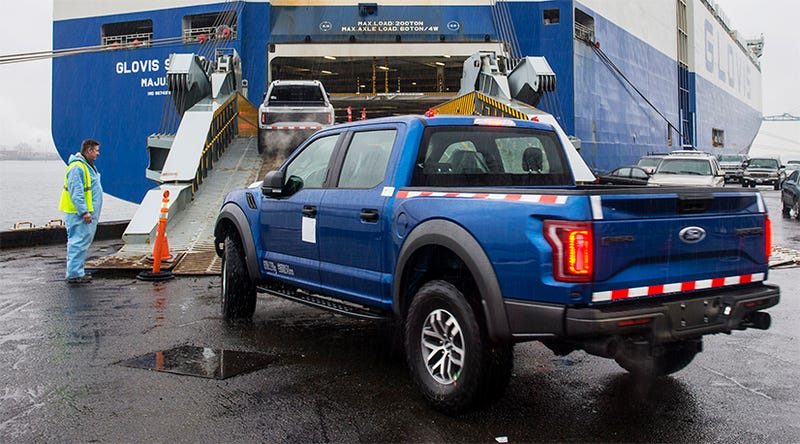 As of the past few days, the 2017 Ford Raptor is the first Ford F-Series truck to be officially exported to and sold in China. Aside from the price, which has not been announced yet, there's really only one distinctive difference between American and Chinese-spec models: the headlights. The other unique features for China are much harder to find.
You'll notice that the headlight on the Chinese truck doesn't have the amber accent. Well, it's amber on the American truck when it's lit. In resting-mode as pictured it looks like a silver bar running the length of the light.
It also looks like the main-beam LED light has been swapped for a halogen or HID projector housing on the Chinese truck. Interestingly, China's Raptor does away with the constellation of amber dot lights that make the Raptor's face so distinctive.
On the American version, these little amber specs are legally required as size-indicators due to the Raptor's immense width. You usually see them as a row across the top of the windshield on big rigs or heavy duty trucks, but one of Ford's designers wisely decided to work them into a style statement in the truck's first iteration and carried the look over for the 2017 model. Except, apparently, not for China.
The lineup of Raptors in this image is heading for China, and as you can see, the spots that would normally hold amber lights have been blanked-out with plastic. Similarly, the American Raptor has little red dots below its main taillights, while the Chinese Raptor does not.
These Raptors (and all others) are currently still built exclusively in Dearborn, Michigan.

A representative from Ford informed me that the Chinese Raptor's instrument cluster and centerstack is also "market specific," and that the high-mounted rear brake light had been changed as well.
But mechanically speaking, the Raptors heading to China are the same claimed 450-horsepower High Output 3.5-liter EcoBoost engined monsters we get here, on the same tires and with the same neat traction control technology.