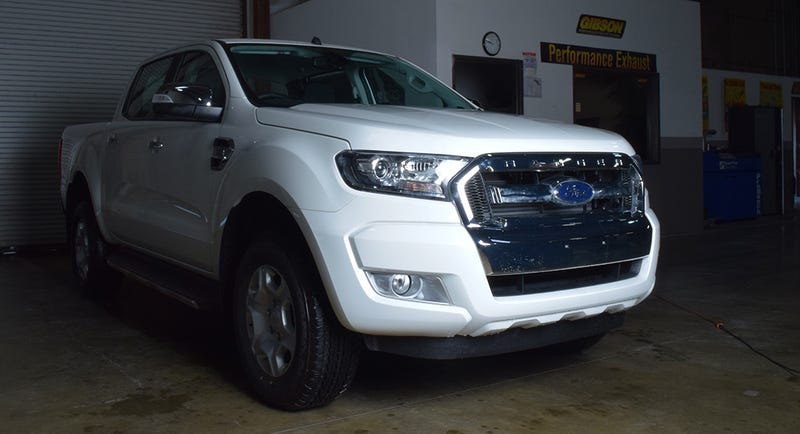 Since the Ford Ranger disappeared from the U.S. market in 2011, it's been remembered by many as the quintessential "honest truck." Cheap, lean, purely utilitarian. In 2019 it's coming back, ostensibly on the same platform used by the current Ranger abroad. So we spent some time with a 2016 truck it to get an idea of what our "new Ranger" might be like.

(Full Disclosure: When we were invited to drive this Ranger, it was insinuated that it was the only one in the United States. But there may well be others.)
This particular Ranger is a temporary legal guest in the United States courtesy of the aftermarket association known as SEMA. SEMA arranged for the truck to be brought to California so American companies could develop upgrade parts for it to be sold abroad.
We were invited to check out the truck by Gibson Exhaust, a Corona, California-based outfit which makes pipes for all kinds of vehicles but specializes in trucks and SUVs. They'd already fitted this Ranger with their own exhaust system which gave the truck a little extra auditory presence, but otherwise the vehicle was stock.

It's a 2016 XLT four-door crew cab, built in Thailand for the Australian market. As optioned with a six-speed automatic transmission, 3.2-liter inline-five-cylinder engine and four-wheel drive this truck would retail for AUD 62,789 which translates to about $47,000 American.
But before you freak out, you've got to realize everything's expensive in Australia. The same four-door 4x4 3.2-liter automatic XLT Ranger retails for just 1029000 Baht in Thailand; which is $29,000.
The Ranger we'll be able to buy in America in 2019 will be built in America and undoubtedly be priced competitively with its mid-sized competitors here, namely the Chevrolet Colorado and Toyota Tacoma. The Honda Ridgeline is of course the "softer" more compliant alternative as the only unibody vehicle in the category, and the Nissan Frontier is a bit of a wildcard since it hasn't been revised since 2005. I've got to imagine it will probably undergo a major revision before this "new" Ranger hits the American market.
But the Ranger's here now. At least, this one is. So let's walk through what we learned after climbing all over it for half a day.

Size
We've already done the geometry to dissect how big the current Ranger really is compared to other mid-sized trucks, and even considered how it measures up to a modern F-150.