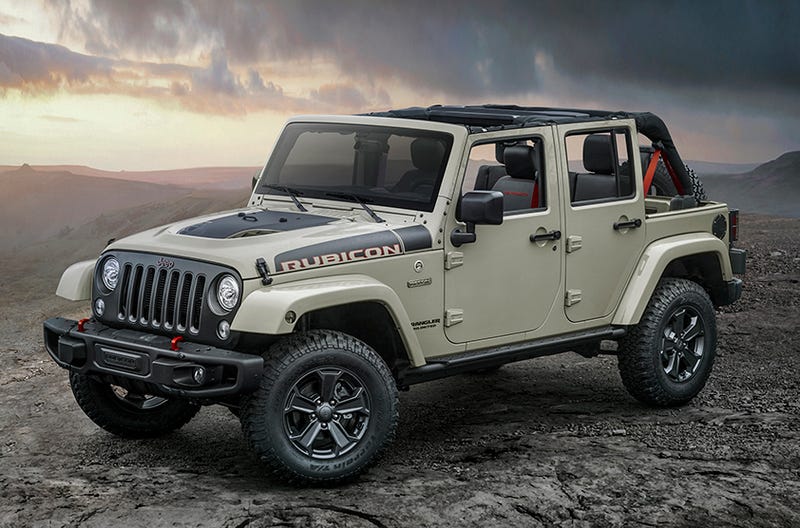 The 2017 Jeep Wrangler Rubicon Recon is now officially the most off-road capable Jeep you can buy off the shelf. It's not a massive upgrade for the lineup, but there are a few significantly beefier parts and hey, is that red interior trim I see? Oh yeah, now you know it's fancy.
The Wrangler occupies a unique space in the automotive marketplace. Hardcore off-roaders love its archaic-but-tough technology, everybody else likes the idea of it, and as a result, Fiat Chrysler can't stop selling the things.
With the demise of the Wrangler's current "JK" body about to be upon us, Jeep has been cranking out special editions since last year's Easter Jeep Safari event. The Rubicon Recon is a full-fledged trim level you'll apparently be able to pick up as advertised by the end of the month.
So here's what makes the Rubicon Recon worth $39,145, according to Fiat Chrysler: The front axle gets tougher housing tubes and "heavy-duty end forgings," which theoretically means you'll be able to crash through and on top of rocks with better resiliency against damage.
The front rear differentials get cast covers, again for rock protection. But I mean, they also look sweet. Confession time: I put a shiny aluminum cover on the back of my old Land Rover's rear differential just because I liked the bling. I'm not proud of it. I mean certainly was when I stuck it on there, with hose clamp fittings and a rubber mallet. (Don't worry, I had a safety wire.) Anyway, people driving behind your Wrangler Rubicon Recon may get to enjoy a similarly subtle bit of bling.
The Rubicon's rock rails, which are armor tubes running the length of the truck between the wheel wells, have been shortened to accommodate 35-inch tires. The Rubicon Recon comes riding (very aggressive) 32-inch BF Goodrich KMs.
The rest of the Rubicon Recon's unique features are aesthetic: black exterior trim pieces, red accents all over the place inside and a unique gauge cluster.
The engine is the same 285 horsepower Pentastar 3.6-liter V6 that powers every other new Wrangler, running through a part-time 4WD system that has a 4.10 rear axle ratio, a low range with a 4:1 ratio, and a 73.1:1 crawl ratio in the manual transmission.