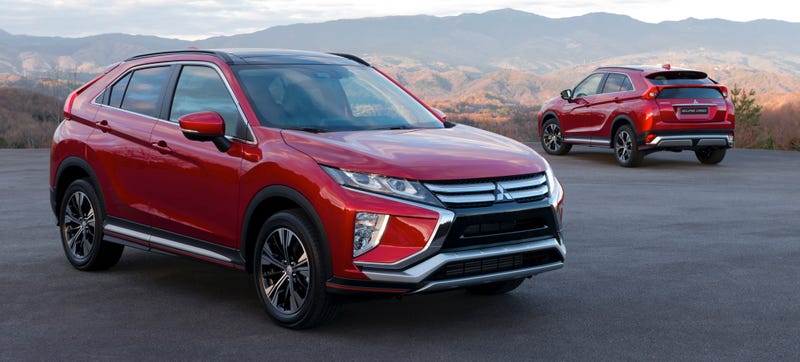 I... uh... hm. Yeah. Here's the new 2018 Mitsubishi Eclipse Cross. Oh, God, this is it.
The Eclipse name has indeed returned—but in the form of a crossover—which I'm fairly certain is the equivalent of reincarnating as a turnip.
It has all-wheel-drive and a 1.5-liter direct-injection turbocharged engine. Power is delegated via a CVT gearbox. An optional 2.2-liter turbodiesel is also available with an eight-speed automatic.
And I suppose we shouldn't even talk about how its rear end looks like a Pontiac Aztek's.
I would like to share with you this nugget of a paragraph that Mitsubishi included in its press release for the Eclipse Cross:
Other distinguishing features are its design that motivates the driver to get out and go, connectivity that inspires new fun adventures, and all-wheel control technology which delivers an enjoyable, reassuring feel that elevates the driving experience.
I daresay the last car that made me want to "get out and go" just from looking at it (and this is true) was the Mitsubishi Evolution X Final Edition.