Maserati's unusual desire to generate money via the sales of cars has led them down the path to this: a Maserati-badged SUV. We've known this was coming, teased by the 2011 Kubang concept, and now it looks like our Dutch pals at Autoweek.nl got shots of the actual production Maserati Levante before its upcoming unveiling at the Geneva Motor Show.
The Levante has sort of been seen before, as patent images of the car's design leaked in May of last year. If we superimpose the patent drawings with these images just leaked by Autoweek.nl, it does seem pretty clear that we're dealing with the same car.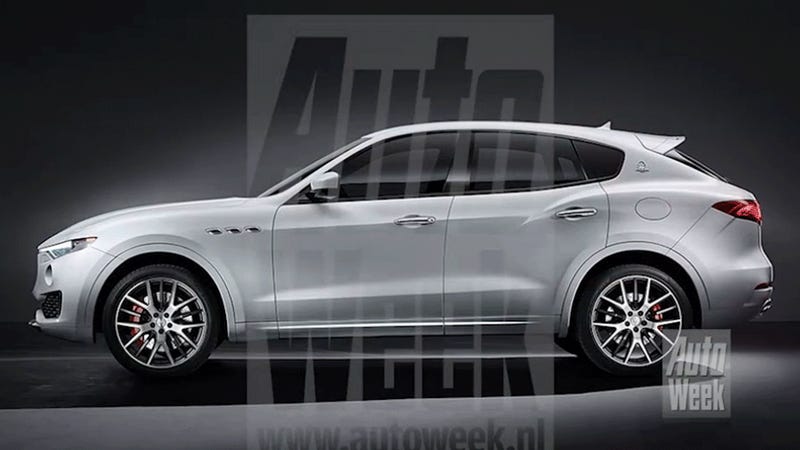 Is it possible these are just renderings? Of course. We can't say 100 percent that this is the production vehicle, but, based on what we've seen and heard so far, and the similarity to the leaked patent drawings, I think this is a pretty decent bet. (We reached out to the pub to confirm and will update when we hear back.)
The Levante will come with three engine options: two gasoline 2.9-liter V6s and one 2.9-liter diesel V6. At least one of the gasoline engines is expected to make about 430 HP, and the diesel about 275 HP.
The Levante is very possibly based on the new Cherokee platform, and is certainly similar to the Cherokee in basic proportions. Styling-wise, it's taking well-established Maserati design cues like the dramatic grille, with its eight slim columns and plenty of space in between, those three speed holes on the front fender (most likely not even real vents), the slitty headlights, and some nice sculptural flanks.
Those elements that work so well on the elegant and well-proportioned Quattroporte I don't think really do many favors on the bulk of an SUV. The result is, while maybe not hideous, not really all that interesting or attractive.
Does Maserati really need an SUV? I guess so, since that want some of that sweet sweet cash Porsche is raking in with their Cayannes and Macans. I mean, I get it, but in the end, this still just feels like a fancied-up Cherokee with a big-ass chrome crown in its gaping mouth.
I mean, Maserati would never debase themselves with ridiculous badge-engineering, right?
Right?

---
Contact the author at jason@jalopnik.com.