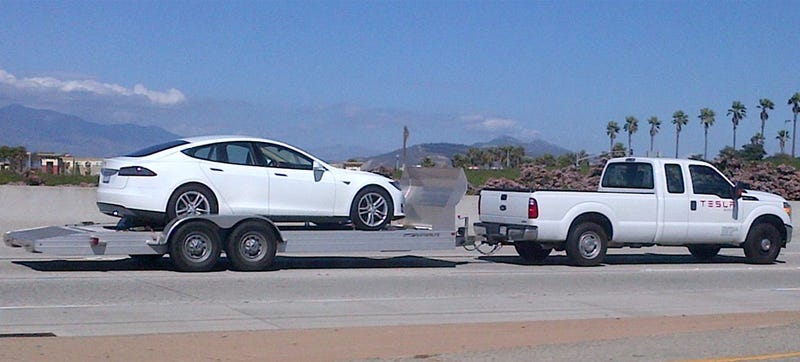 A reader spotted this Tesla Model S being towed being a current-generation Ford F-250. The truck was marked up with official-looking branding and Tesla's DOT number, which tells us Tesla operates 11 tow trucks that travel a total of 5,000,000 miles a year. Are they using the right rigs?
With no Power Stroke badge and a relatively small exhaust tip, it's safe to say this pickup is running Ford's 6.2 flex-fuel V8. Heavy duty truck fuel economy isn't rated by the EPA but people on the forums seem to be turning out about 14 MPG with that engine on the highway, and more like ten with something in tow. Seems like we could say a truck that spends half it's time towing and half empty would be turning out 12 MPG if its spending most of it's time at cruising speeds.
The DOT number on the door leads to Tesla's transporter registration, which says their 11-vehicle fleet is authorized to carry "general freight," and runs about 5,000,000 miles a year. Hypothetically, that's about 450,000 miles for each transporter. If they're all flex-fuel F-250's getting 12 MPG, they're each burning 37,500 gallons of gasoline a year.
Unless of course they're all running E-85, which they'd be burning much more of.
Of course, there's too much speculation there to draw any real conclusions. But I am keen to hear what you think of the 6.2 F-250 SuperCab as Tesla's tow vehicle.
Hat tip to Roger Niebolt!