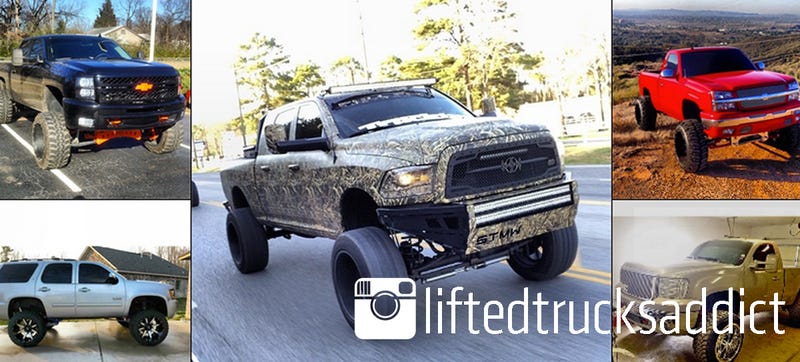 If a camo Tundra with three light bars and a stance like a sumo-wrestler on stilts isn't your cup of tea, it's still a spectacle to behold. liftedtrucksaddict has racked up almost 45,000 followers on Instagram featuring insane shit like this.
The trucks here range from "over the top" to "downright absurd" and they're all sure to be polarizing. I know there are plenty of fans of the lifted-luxury SUV look (at least 44,662 based on this feed's present follower count) but I suspect some of you will reach for an oxy acetylene eyewash after scrolling through.
Truck Yeah! will reserve the right to remain unbiased; so enjoy! Or puke.
Truck Yeah! showcases the best, worst, wackiest, or anyway interesting social media feeds featuring trucks of all kinds, weekdays at 4:30PM EST. Nominate your favorite to be featured in our Who To Follow series. Yes, of course you can nominate yourself. Email tips@jalopnik.com.