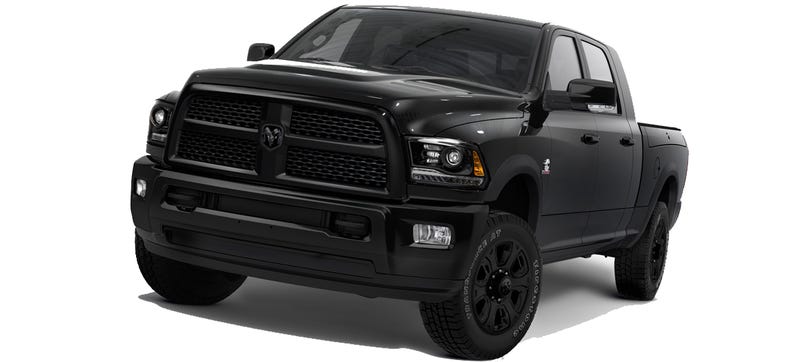 Don't be gross, this is a respectable truck site. Obviously Ram sold so many of their all-black "Black Express" half-ton pickups that they've extended the murdered-out black on black on black package to their heavy duty trucks.
For about $43,000 and up you can get your single-wheel Ram 2500 or 3500 completely blacked out at the factory. Or, you could pretty much make your own with a few barrels of Plasti-Dip. Tapout stickers optional (mandatory?)
The official Black Package includes 20" wheels, a special grille, Ram badges, light bezels, and tail lamp finishes in hot pink. I mean, black. Duh. Wonder what color the interior is!
Other than that, the usually massive "RAM 2500" badges are shaved off the doors, Parkview and Parksense are fitted as parts of the package.
I don't think there's much argument that Ram trucks are already the most aggressively styled pickups on the market right now. This stealth-monster setup adds a little extra evil to that snarling face, sure to send kids running for their mums and give that old lady you're tailgating a heart attack.
Think more trucks should be offered in this color scheme or are you already having nightmares?